It's about time we get rid of what I call Alternative Universe Time. AUT is when liberals tell you something that goes completely contrary to empirical evidence, even when you see it with your own eyes.
It's like when liberals tell us that the illegal alien thing isn't really that big a problem. Try to tell that to the families of those raped and/or murdered by people who shouldn't even be here in the first place.
It is sickening how the Democratic Party makes excuses for people coming over our borders illegally, because they think of them as Unregistered Democrats. It's not only an illegal act, but it's insulting to those immigrants who come here legally.
It's gotten to the point where liberals will now call illegals "crime free", and unless you point out to them that the very act of being here illegally is a criminal act, they won't cop to it.  And when they do they expect us to agree with their zany politics when they say, "Other than being here illegally they haven't broken the law since." As if we're supposed to now forgive that they broke the law by coming here illegally because they haven't committed any further crimes. That's nuts.
[As reported by Breitbart News]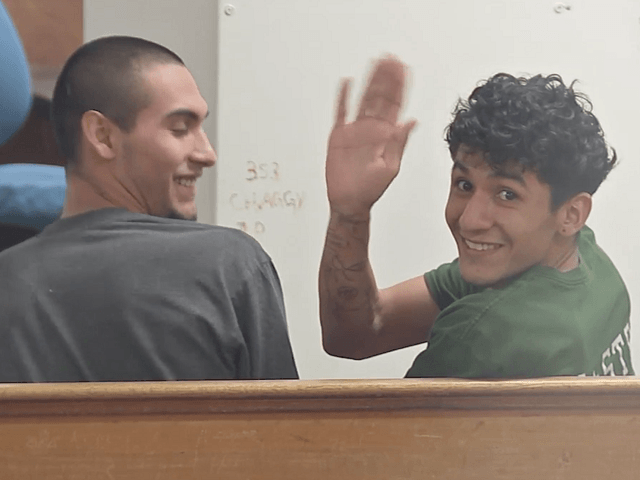 HOUSTON, Texas – U.S. Immigration and Customs Enforcement (ICE) officials confirmed to Breitbart Texas that the two MS-13 gang member accused of raping two teenage girls and killing one of them in a satanic ritual are illegal aliens from El Salvador. The two laughed and waved at television cameras during their first court appearance last week.
Over a period of several weeks, Diego Rivera, 18, and Miguel Alvarez-Flores, 18, allegedly kidnapped and raped at least two young girls, Breitbart Texas reported on Thursday. Following an incident where one of the girls "disrespected" a satanic shrine in the apartment of one of the men, Rivera and Alvarez-Flores took her to a road in southwest Houston where they shot and killed her; prosecutors told the court.
Breitbart Texas reached out to ICE officials who confirmed that both men, Salvadoran nationals, were illegally present in the U.S. Houston media outlets did not report on the immigration status of the two suspects.
Prosecutors told the judge of the 339th Criminal District Court the two men were members of the MS-13 gang. Alvarez-Flores is reported to be the leader of this Houston group.
The two MS-13 gang members from El Salvador held the surviving victim against her will, moving from one apartment to another while keeping her intoxicated with drugs and alcohol. She said the men held her down and tattooed the "Grim Reaper" along the entire length of her calf, prosecutors told the court.
 Court records state a man going by the name "Flaco" sexually assaulted the 14-year-old victim.
As many as six MS-13 gang members lived in the apartment where the satanic rituals took place. Officials have not reported if more arrests are pending.
A SWAT team arrested the two gang members after a standoff on Monday. Officials did not disclose what led them to the location. The 14-year-old victim and another teenage girl were rescued and returned to their homes, the Daily Mail reported.