In a twisted tale of doubt and deception, a suspicious woman decided to put her boyfriend's loyalty to the test by hiring adult film actress Valerie White to seduce him. She watched the entire encounter on camera, expecting to confirm her fears. Little did she know, the unexpected outcome would leave her reeling.
The woman, who remains unnamed, enlisted the help of the show "To Catch A Cheater" to facilitate her scheme. The crew filmed Valerie White as she approached the unsuspecting boyfriend outside a bookstore, attempting to flirt with him. He politely declined her advances and entered the store.
Not one to give up easily, Valerie waited outside for the boyfriend to reappear. Upon his exit, she feigned being lost to elicit his assistance. Though he offered help, it was clear that it was only out of courtesy. Determined to succeed, Valerie escalated her advances, using provocative language and propositions.
Despite her persistence, the boyfriend continued to resist her advances, mentioning that he had a girlfriend. Although he accepted Valerie's phone number, he suggested that the three of them – or even four, alluding to a double date – should hang out together. When Valerie implied they should engage in group sexual activity, the boyfriend appeared shocked and quickly left.
The girlfriend, who had been watching the footage, expressed mixed emotions about her boyfriend's response. While she acknowledged that he had resisted Valerie's advances, she was upset that he had accepted the woman's phone number. However, the situation was about to take a dramatic turn for the worse.
Upon calling her boyfriend to reveal that the entire encounter had been a setup, the girlfriend was stunned to find him angry and unappreciative. He promptly broke up with her, stating that her actions demonstrated a lack of trust in their relationship, and hung up the phone.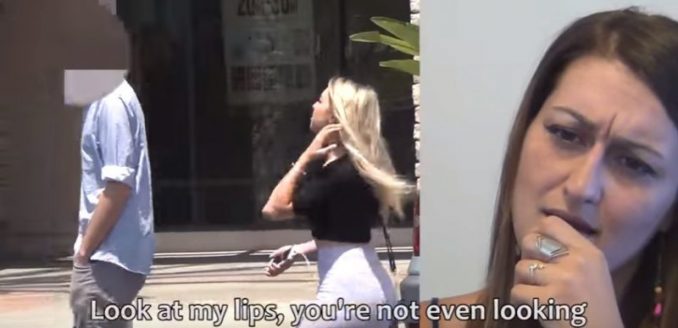 The girlfriend was left in disbelief, exclaiming, "Are you fing kidding me? That's how he breaks up with me after a fing year?" The reactions of viewers to this story were mixed, with many agreeing with the boyfriend's decision to end the relationship, labeling the girlfriend as problematic and manipulative.
However, some sympathized with the girlfriend, suggesting that past traumas might have caused her to have trust issues. Others argued that the boyfriend had been subjected to five minutes of sexual harassment. As one YouTuber commented, "I'm so glad he broke up with the girlfriend. He was basically just harassed and found out that it was courtesy of his distrusting crazy gf."
In the end, it is not up to outsiders to judge the actions of the girlfriend or her now ex-boyfriend. While she may have had her reasons for testing his fidelity, she must also face the consequences of her actions. Each person has the right to decide what they want in a relationship, and it seems that, in this case, the two were not meant to be together. It's just unfortunate that it took such an aggressive and invasive test to bring their incompatibility to light.
WATCH the video below for more details: