In a world where crime and chaos seem to lurk around every corner, sometimes it takes a hero to step up and save the day. And for the unsuspecting shoppers and employees at a South Carolina Walmart, that hero came in the form of a fearless veteran named Demario Davis. Armed with nothing but his military training, he bravely took down a knife-wielding man who was threatening the store's patrons.
The scene unfolded as Davis and his son went about their shopping at the Columbia Walmart. Suddenly, they found themselves in the midst of a terrifying situation – a man brandishing a pocket knife and shouting threats at the terrified employees and customers. With no security in sight, it was up to Davis to step in and put his military training to the test.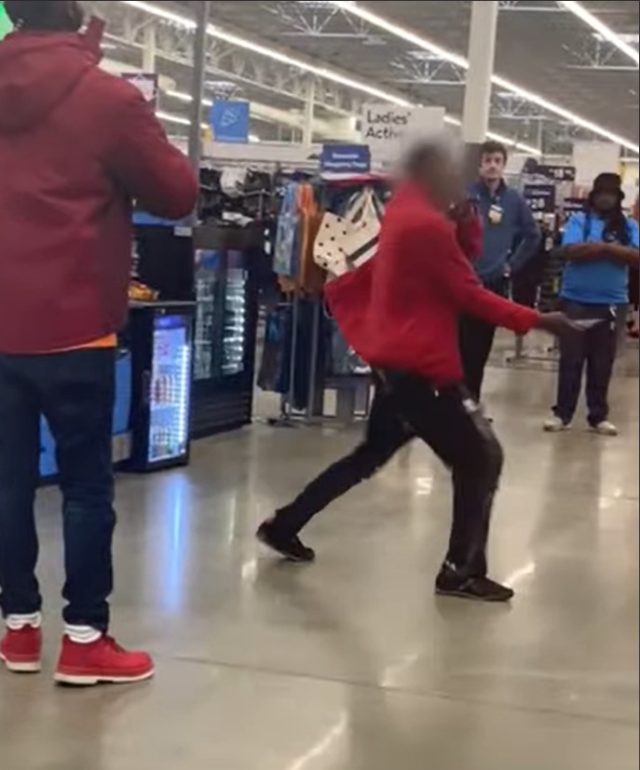 As the knife-wielding man continued his rampage, shouting threats like, "When the cops get here, I'm going to start cutting you all up," Davis knew it was time to act. Another customer tried to subdue the attacker but was nearly cut in the face. Drawing on his training, Davis grabbed a stanchion and made his move, striking the assailant over the head and disarming him in one swift motion – all of which was caught on video.
WATCH the actual footage of the incident below:
Davis's quick thinking and selfless bravery didn't go unnoticed. As he recounted the harrowing ordeal, he emphasized the importance of community members stepping up to the plate: "The cops can't do it all by themselves." And in today's world, with violence and turmoil seemingly everywhere, Davis's actions are a shining example of what it means to be a true hero.
The knife-wielding man, now subdued and disarmed, was held down by other customers until deputies from the Richland County Sheriff's Department arrived on the scene. According to the sheriff's office, the man was taken to the hospital for evaluation. While it's always a risk to step in and intervene in such dangerous situations, Demario Davis's actions undoubtedly saved lives that day.
In a time where community spirit can seem in short supply, it's heartening to see brave individuals like Demario Davis willing to risk it all to protect their fellow citizens. His selfless act of courage serves as a reminder that, even in the face of danger, the human spirit can rise above and conquer. So, let's salute Demario Davis – a true hero and an embodiment of the strength of the community. Job well done, sir.
WATCH the video below for more details:
Sources: Taphaps, NY Post, WIS-TV, Fox News