After "racist graffiti" was found in a porta-potty at a construction site, the sheriff's office launched a criminal investigation, and a $50,000 reward was issued, the graffiti caused such uproar that all 1,300 workers were dismissed.
Because of a single phrase scrawled on the door of a portable outhouse, it was enough to completely halt all operations and send Utah authorities into a panic. Although there are a few complications that can shut down a major construction project, especially one with over 1,000 workers on site, the construction site was shut down.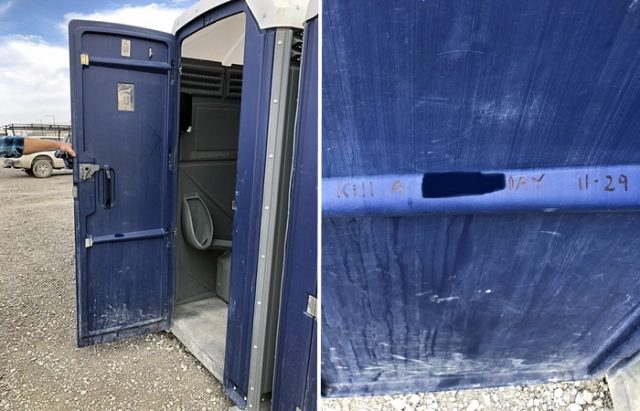 According to KSTU-TV, Mortenson Construction called the Utah County Sheriff's Office to conduct an investigation and terminated all 1,300 of its employees for the day out of concern for the safety of people there as a menacing insult was found inscribed on the door of a porta-potty while construction at a Facebook data center in Eagle Mountain was being finished.
The report added that Mortenson Construction collected its staff, alerted them of the threat, and sent them home as a precaution while law enforcement investigated the incident. In an image shared on Twitter by the UCSO, the words "Kill a n***** day 11/29" were inscribed inside the building's door in what seemed to be black marker.
In addition to the decision to send its workers home, the company announced a $50,000 reward for information regarding the identity of the culprit in a statement by Mortenson Construction, which also denounced the racist remark.
"Mortenson's priority is the safety and welfare of our team members and all people on our projects. We are investigating bias-motivated graffiti found today on the Eagle Mountain project site. We strongly condemn any form of racism or bigotry, and we have a clear, zero-tolerance anti-harassment, anti-discrimination policy. We stopped work today to immediately and directly address this situation with team members and project partners, underscore our team's anti-harassment policy and restate our expectations for conduct on site. There is a $50,000 reward for information leading to the identification of the individual(s) responsible," the company said.
A statement condemning the graffiti and vowing to make changes to operations going forward was also issued by Facebook Inc., which has since changed its name to Meta Platforms in a rebranding effort.
A spokesperson for the company said, "Meta, formerly Facebook, has zero tolerance for any racist acts, While this is a challenge facing the entire industry, we're working with our general contractors to implement measures that will help prevent them at any of our construction sites."
Sgt. Spencer Cannon, Public Information Officer, published photographs of the graffiti on social media and was met with the response, "white lives matter," which he swiftly repudiated. He claimed that because the graffiti isn't aimed at "crackers," white people aren't as vulnerable to violence.
Cannon wrote,"But we must recognize the fact that people aren't generally writing bathroom wall graffiti that says 'Kill a cracker day 11/29.' So in that light your statement is insensitive at the very least and should be kept to yourself."
The threat was not addressed to a specific person, according to the police, and there is no convincing proof that it will be carried out, according to their investigation. The sheriff's office currently has no suspects, they added. Authorities acknowledged that it might be impossible to find the offender given a large number of visitors to the site.
Watch the video report below for more details:
Sources: Taphaps, Kutv, Fox13now