Trying to push the left's narrative that flaunting your sexuality for the world to see is empowering, a female professor stripped completely naked during a lecture in front of students at a college, as for most students, an unexpected pop quiz is the biggest surprise they'll encounter in the classroom.
But for this professor and economist at the University of Cambridge just bare her nude body in front of a class while delivering one of her infamous political speeches just to get their attention!
Victoria Bateman's website describes her as follows: "I am a Director of Studies, Fellow and College Lecturer in Economics at Gonville & Caius College, University of Cambridge, and have written regular commentary for publications such as UnHerd, CapX and Bloomberg View."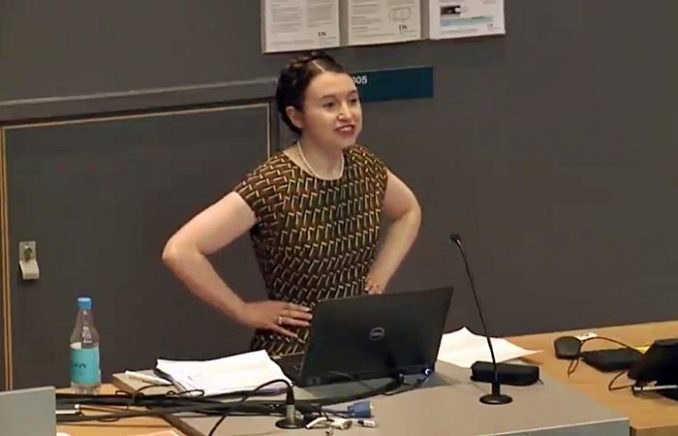 In many of her political lectures, including her support for abortion with the slogan "my body my choice,"  Bateman decided to use her naked body as an instrument,  after seeing her notoriety skyrocket, in which she garnered international attention when she gave an 18+ nude lecture to protest the United Kingdom withdrawing from the European Union.
Now, during a lecture at a prestigious university, Bateman stripped down, getting naked for all to see. Instead of reprimanding her, the University of Cambridge has chosen to stand by her while its reputation takes a hit.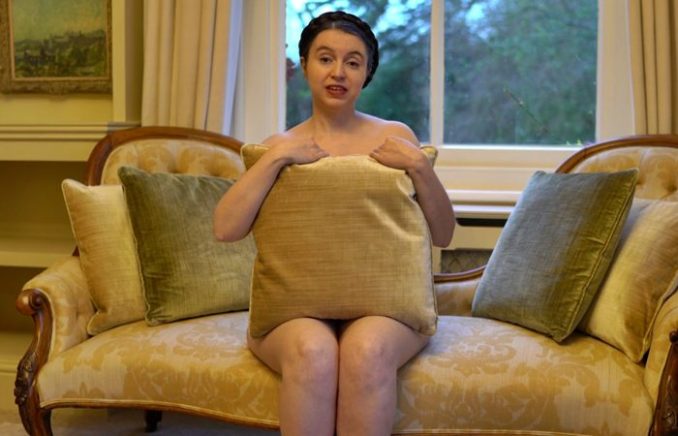 Bateman claims that what she does is both "art" and a way to promote female empowerment.
Bateman claims that exposing her breasts, buttocks, and vagina to eager listeners somehow strengthens the case for feminism; the economist has tirelessly tried to convince her critics that strutting around an auditorium nude doesn't diminish her message; she later posted a portion of her nude lecture on Twitter, prompting a flood of mocking, according to The College Fix.
Bateman told Inside Higher Ed, "Women's bodies are one of the big battlegrounds we face today, whether in terms of women's access to birth control, sex workers' rights or clothing, including burka bans, by covering up the body, these problems don't go away. Instead, we fail to address them because we think of the body as something that's embarrassing and not to be talked about in polite — or academic — company."
Instead, Bateman maintains that it is empowering for women to expose their genitals to strangers, admitting that she "uses" her body as a tool to get what she wants, as she refused to answer when questioned about her unconventional and possibly vulgar method.
"As she saw it, however, "the relevant question is not 'Why use your naked body?' but 'Why not use your naked body?' Reversing the question in this way helps to reveal people's inner thoughts or presumptions about women's bodies: that when a woman shows her body it devalues her worth or decreases the respect people have for her." She also believes "in the power of art to go beyond what academic writing alone can offer … I've condensed all my words into one simple message: that Britain has been sold the emperor's new clothes."
Of course, Bateman has received a lot of negative responses to her stunts, but that apparently proves her point, she claims that exposing her completely naked body to a crowd of students is somehow a great "feminist" argument. Forcing her hosts and audience to view her privates whether they wanted it or not, Bateman in fact has unexpectedly stripped down on a number of radio, podcast, and television segments.
Although the feminist "professor" has drawn a lot of criticism on social media, many on the left have nonetheless embraced her and her message.
A man would probably be in jail if he had committed this crime. But in contemporary society, women — and more specifically, feminists — own the privilege, not men. Due to that fact alone, Bateman is able to escape the penalties that others would face. Attendees of her lectures and classes are compelled to view her bare body whether they want to or not.
Watch the video below for more details:
Sources: Taphaps, Dailymail, Insidehighered