The 16-year-old, who was sore from playing football, was soaking waist-deep in the bay about 6.20 pm on Saturday. Sam Kanizay was wading at the beach to cool off after finishing a soccer match in Melbourne, Australia, after leaving the water; he then realized that his legs were full of blood.
The teen described feeling pins and needles in his legs after standing waist-deep in dark cold water for about half an hour.
After shaking off what he thought was sand coated around his ankles, he walked across the beach before looking down and realizing that his feet were "covered in blood".
"It bled for ages, and it's still seeping blood now," he said.
"I wasn't really thinking about being eaten," Sam said, recalling the odd sensation he had experienced and ignored. "I walked out of the water, saw what I thought was sand covering my ankles and lower calf so I just shook it off violently and it came off."
As he went to fetch his belongings, he noticed that blood had begun dripping down his ankles and feet. His legs were bleeding profusely, and it wouldn't stop. "I didn't really know what to think of it, it was a bit of a shock.
A bit of a random thing to see," he recalled. And, when you see the graphic images of his injuries in the footage below, "shock" seems to be an understatement.
Watch it here: The Telegraph/Youtube
Kanizay's father, Jarrod, said hospital staff had no idea what kind of creature could have caused the injuries. So Jarrod went back to the beach the following night with a pool net full of meat and captured the animals he believed could have been responsible. He took a video of dozens of the tiny bug-like creatures chomping on the chunks of meat.
"What is really clear is these little things really love meat," he said.
"I collected these strange creatures from the same spot last night by trapping them in a net and standing in the water myself," he said.
"We got thousands of these little mite-type bugs and they've been sent on to experts."
Mr. Kanizay said he hoped the sandy-colored mites would not scar his son, and he is expected to make a full recovery.
"We are just waiting on the experts to tell us what they are and how they behave and why this happened."
Australia's Herald Sun newspaper had an interview with Marine biologist Dr. Genefor Walker-Smith who said that they saw some of the samples and said that the bugs were probably lysianassid amphipods or sea fleas.
"It's possible he disturbed a feeding group but they are generally not out there waiting to attack like piranhas," she said.
Experts have said such cases are very rare and that there is no reason for alarm.
According to Sam's mother Jane Kanizay "I'd hate to see anyone else going through this. If we can prevent it for anyone else, that's the aim of us talking to people."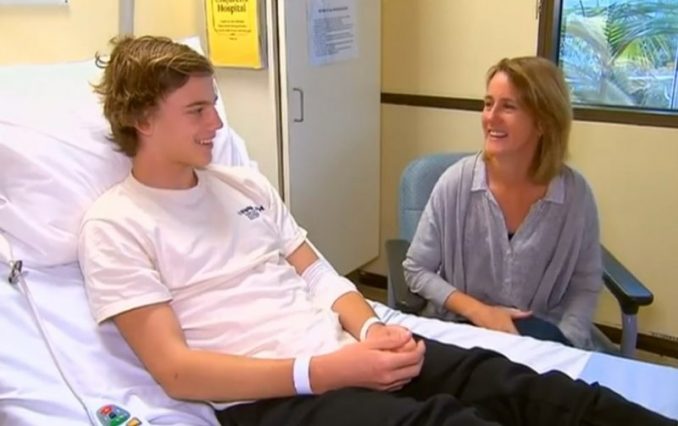 Mrs. Kanizay may have gotten so much attention after her interview since a lot of people are now hesitant to even go back into the water after seeing this. I think I'll stick to swimming in a nice, clear pool. Sam, however, is undeterred. "Plenty of people go for a swim in there so it's probably just a one-off thing," he said, relaying that the incident won't keep him out of the water.
Watch it here: Time/Youtube
Sources: Taphaps, CBS News, SMH, Herald Sun, BBC