Police were bashed with a "football-sized" rock causing the authorities to open fire but the family of the suspect got paid off with a huge pile of money.
It was that day when Sacramento County Sheriff's Office received a call about a man showing aggression towards a woman who was later confirmed as the mother of the man.
The man was identified as Mikel McIntyre a 32-year-old who was experiencing a mental health crisis during the altercation with his mother.
Sacramento Bee has reported that McIntyre's mother confirmed that she had attempted twice that day to place her son on an involuntary psychiatric hold but that he failed to meet the criteria for such an action.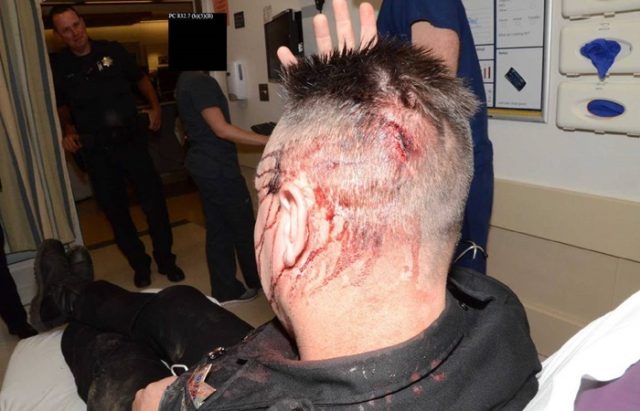 The official police report via Blue Lives Matter states that "a witness at the scene told police that he saw "a white cop and a black male" in a physical struggle as the officer tried to arrest the man. He confirmed that the man fitting McIntyre's description "broke free and then picked up a big piece of concrete and hit the officer in the head and chest with it, The object turned out to be a large river rock, which left Wright bleeding profusely from a serious head injury."
"The rock was about the size of a football. The officer fell down and the black guy started running," the witness told investigators. "I think the officer fired two shots at the black guy but I don't think he hit him because he didn't even break stride."
Watch the video footages where McIntyre was running away from the police where officers open fired 28 rounds, striking him in the back, both arms, both thighs, and his head before he was ultimately stopped by a police K9.
Watch it here: Youtube/ Blue Lives Matter
Sacramento County District Attorney Anne Marie Schubert's office has concluded an investigation that confirms that the deputies' actions and use of force were "justified" because McIntyre was a threat to the public. Via FOX40 while the suspect's family disagrees with the ruling.
After filing a lawsuit for wrongful death, Sacramento County settled out of court with McIntyre's family for $1.725 million. Even after settling with the county, McIntyre's mother continues to accuse the police department of not only brutality but a conspiratorial coverup.
The suspect's mother was wining and said these statements:
"The witnesses were saying, 'No, the police officer slipped and fell and hit his head.' They both entangled and they both fell and my son got up and started walking away," Brigett said.
"If I went out and murdered somebody and lied about it, wouldn't I spend time in jail? Even if they could prove it or not, I would still have to spend time in jail. What makes them above the law?" she accused. "It's not right. It's over-excessive."
After being paid with the amount of $1.725 million as a settlement for a so-called wrongful-death lawsuit, the family still screams how our police officers murdered his son.
Sources: TapHaps, Sacramento Bee, Blue Lives Matter, FOX40