It seems that the former members of the royal family have had their hands full adjusting to life without everyone catering to their every whim.
Look at the way that they have been acting the past couple of months, it has been absolutely pathetic.
Now, they are grasping at straws trying to get any support they can by hitching their wagon to any liberal cause that they can find.
Meghan Markle and Prince Harry made an appeal to the Black Lives Matter protesters by apologizing for "institutional racism" that they claim is everywhere. They told BLM they are "sorry we haven't got the world to the place you deserve it to be." Harry promised he and Meghan would do everything in "their power" to encourage Americans to do better and "right the wrongs of the past." Well, that when the dastardly duo got an epic smackdown.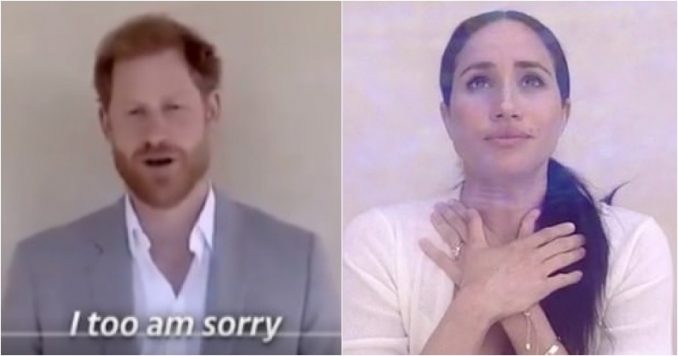 Meghan Markle and her sidekick husband Harry have been stuck inside in Los Angeles as their bank account is drained. They are suing various paparazzi and their magazines hoping to make a fast buck. In fact, they got so desperate, they used their son, Archie, as the plaintiff in their latest lawsuit.
"The young child, who is just one-year-old, is taking legal action against a Los Angeles based photo agency called Splash news," Extra reports. "In the legal papers, Meghan is described as Archie's 'litigation friend'. This is due to the fact he is a minor."
But the income-challenged ex-royals really thought they hit pay dirt over the civil unrest happening across the United States. Meghan thought she could cash-in on her status as a biracial woman by aligning with the Black Lives Matter movement.
In a clip released in the wake of George Floyd's death to her alma mater, Immaculate Heart High School, the 38-year-old former D-list actress gushed: "George Floyd's life mattered and Breonna Taylor's life mattered and Philando Castile's life mattered and Tamir Rice's life mattered."
It was truly cringeworthy. Then, Meghan and Harry appeared to get a break. In late June, the "woke" duo signed with the Harry Walker Agency, according to the Los Angeles Times, citing an unnamed source. That agency also represents the Obamas, the Clintons, and Oprah Winfrey.
The only problem is to make money with Harry Walker or any agency, you have to draw companies or organizations who will book you to speak. So, Harry made this latest video hoping to show he is ready for primetime speaking gigs by appealing to the BLM movement.