The police in our country have been waging a war on drugs for decades now and while they make some major drug busts, they are no closer to winning the war. However, during a recent drug operation, police took a photo of their prize and quickly noticed something in the photo that is going viral.
A Mexican police dog from the border state of Coahuila earned attention on social media after it appears to smile in a photograph following the arrest of a street-level drug pusher.
The photograph came as part of a news release provided to Breitbart Texas by the Coahuila government. Agent Channel, a yellow lab drug-sniffing dog assigned to the special police unit Fuerza Coahuila, stands next to his seized loot and suspect in a photograph.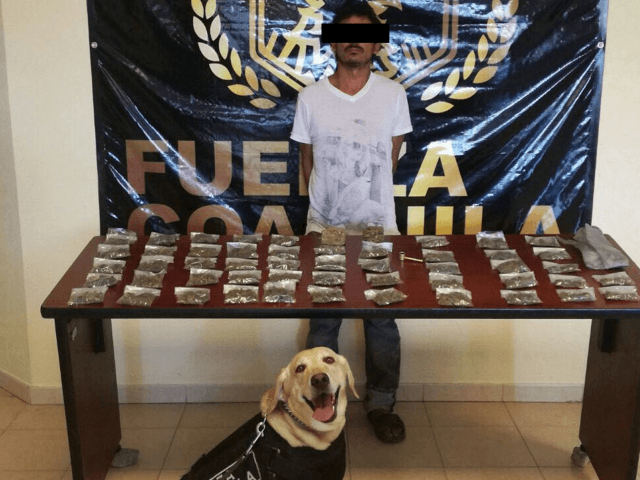 The photograph was taken after Channel led Fuerza Coahuila officers to the seizure of two bricks of marijuana and 50 baggies that were being used as part of a street-level drug distribution operation in the town of Matamoros, Coahuila. The bust occurred while officers were carrying out routine patrols. The police dog led the officers to 36-year-old "Raul".
 The "smiling" dog appears to present a gentler image of Fuerza Coahuila. The specialized police unit is an evolution of Los GATES, a group that was created to take on Mexican drug cartels such as Los Zetas, a criminal organization that earned a reputation for its ruthlessness.
That is one happy pup that is sure to put a smile on anyone's face who sees him.